Vanuatu is one of family friendly destinations for Australians. "The friendliest place in the world" offers a special and unforgettable adventure to Aussie travellers – a walk to Mount Yasur, an active volcano.
Mount Yasur Volcano
One of adventure highlights of Vanuatu, Mount Yasur volcano, is located on Tanna Island on the coast near Sulphur Bay. It is only a short flight from the capital Port Villa.
Although a flight price might look expensive, this remarkable place is must to visit. The glow of the volcano attracted Captain James Cook on the first European journey to the island in 1774.
7 Things to Know About Mount Yasur Before You Go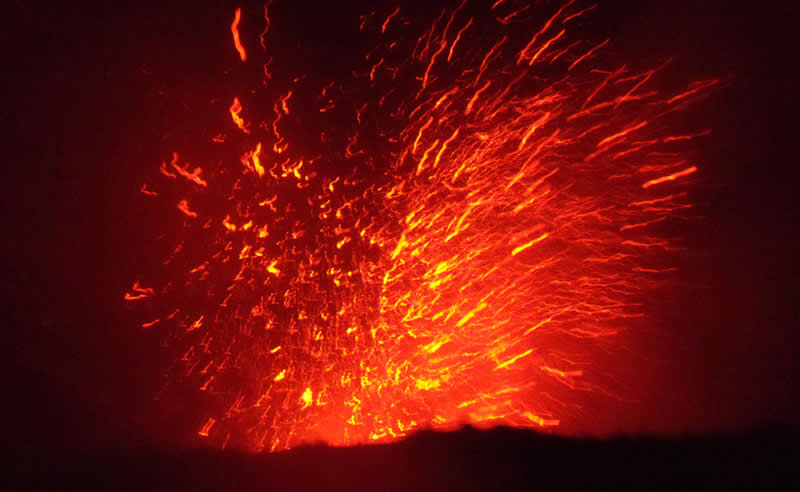 1. Mount Yasur is an active volcano 361 m high above the sea level.
It is one of the most easily accessible active volcanoes in the world.
2. Mount Yasur is known as "the lighthouse of the Pacific". These days it is a sacred area.
3. You can walk right up and peer down into its belly.
Standing close to the edge of the crater can be a frightening experience. You will see huge explosions from the crater that will shake the ground. This will be followed by debris shoot high into the air.
4. A warning system is in place and you will be warned in advance about the likely danger. The danger rates are from 0 to 4.
When rated 2 and above, it is probable that the volcanic rocks will fly as far as the edge of the crater and beyond – a deadly threat. On such days visits to Mount Yasur are not allowed.
5. Even having a warning system in place, you need to know that approaching the crater at Mount Yasur is dangerous at any time.
You are at risk from projectiles, toxic gas, and avalanches.
6. Always listed to your guide's advice and do not go to lower, unsafe areas.
3 people were killed over recent years by erupting pieces of lava. You can die instantly if it happens.
7. Mount Yasur is most active between late February and April, during the wet season in Vanuatu.
Rain raises groundwater level allowing water to contact hot rocks around the magma chamber.
How To Get to Mount Yasur
To get to Mount Yasur you need to book one of local tours that will take you there.
Tour options include a day or a night adventure. For sure, red lava explosions during a night tour look magnificent.
Watch this video from the crater of Mount Yasur volcano to get a feeling of how it will be! Would you prefer a night tour?