Portugal's coastal city of Faro is a foodie's paradise. Set in the charming Algarve region, food fanatics have the pick of Portugal's finest fare, and we're going to let you in on a few little secrets so that you know where to find the best food from the minute you touch down in Faro. Whatever your budget or taste, we've got it covered.
If you fancy trying the local cuisine, you're in luck. Faro's visitors are spoilt for choice with the fresh, flavoursome cuisine on offer. Even better, you don't have to spend a fortune, even in the busy tourist areas. It might be worth noting that portion sizes tend to be on the generous size, so loosen your belt and feast your eyes on our whistlestop tour of Portuguese cuisine.
Fish and seafood are excellent choices, as the vast majority is locally sourced and fresh from the sea. The Algarve benefits from more than 200 km of coastline, which is reflected in the popularity of fish dishes on restaurant menus throughout Faro, particularly in the marina. Grilled sardines are especially common, and they tend to be served with boiled potatoes and a green salad or roasted Mediterranean vegetables for a healthy, hearty main. Sardines also come in the form of pate, which is often served as a starter with bread, olives and cheese. For seafood and shellfish, you will most likely be presented with an extensive choice which generally includes prawns, octopus, squid and clams and more.
If fish isn't your thing, it's not a problem, because this region is also famed for its meat. Chicken in particular is done very well, and a traditional Portuguese dish sees it served up in a hot piri-piri sauce. Pork slices, or 'febras', are another popular option. Many restaurants offer simple grilled steaks, with the focus on quality rather than fussy extras. The large portions might be daunting for children, so ask for a 'meia dose' (half portion) for a more child-friendly serving.
Portuguese-style tapas are a great way to sample a variety of dishes without committing yourself to an entire meal. More traditional restaurants serve up selections of seafood, olives and vegetables, whereas modern establishments experiment with mini portions of inventive dishes such as caramelised prawns or spiced fishcakes. It isn't unusual to combine seafood and meat in Portugal, with pork served with clams, for instance.
Vegetarians will be able to enjoy egg-based dishes such as omelettes, and the range of vegetables roasted in olive oil is fantastic. And being vegetarian doesn't mean missing out on the fantastic array of Portuguese puddings, many of which use almonds, eggs and figs to create a light treat to end a meal. Fruit and Italian gelato can be found almost everywhere too.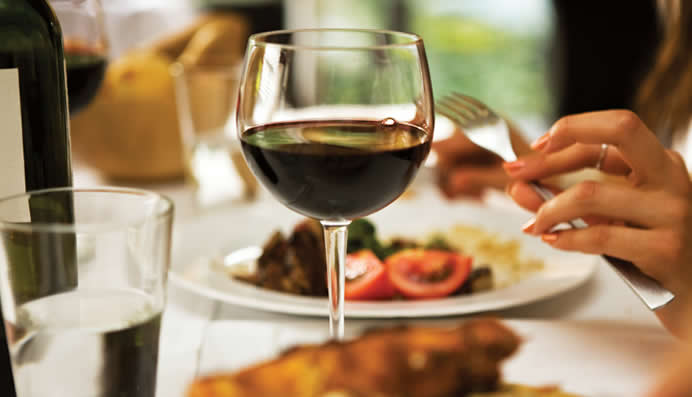 Alcohol is surprisingly cheap in the Algarve. Being in a region so well-known for its vineyards, you can pick up immaculate quality bottles of wine for just a few euros in the local supermarkets, or try a bargain glass of port with a meal. Or, if you want to go one step further, there are many fantastic vineyards within driving distance, with one of the most famous being owned by Cliff Richard!
Faro is a fantastic choice for someone looking for a gourmet getaway, or even for the less gastronomically-minded among you, you will be sure to eat like a king in the glorious surroundings of the Algarve coast.
Photo by: Jos Dielis, Super Rabbit One, Emiliano De Laurentiis