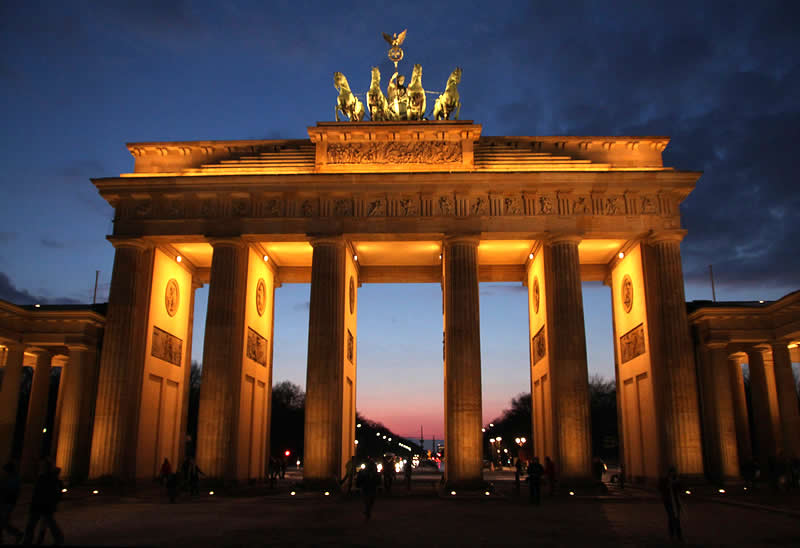 Berlin is the capital of Germany. After the fall of the city's wall it has become a very popular tourist destination. There is a sharp contrast between the influx of young students and artists and the World War 2 monuments and old buildings. It is considered to be one of the cultural capitals of Europe. Here is a list of five places you should definitely visit while you're there.
Funkturm Berlin
Berlin is about eight times the size of the French capital Paris, which makes it almost impossible to explore everything on a holiday there. The next best thing is probably to go to the Funkturm (radio tower). The Funkturm looks a lot like the Eiffel Tower. From the observation deck of the 450 feet tall radio tower you will have a lovely view over the large city grounds. The most eye catching views will be that over the AVUS racing track and the Charlottenburg Palace. The Funkturm contains a restaurant that is a perfect setting for a great dinner.
Brandenburger Tor
The Brandenburg Gate is originally a city gate but in the 18th century it was rebuild as a triumphal arch. It is located west of Berlin's city centre, near the Reichstag building. In the Second World War it was damaged considerably but between 2000 and 2002 it has been fully restored. After the fall of the Berlin Wall it became the symbol of Germany as a unified state.
Zoologischer Garten Berlin
One of the world's most impressive zoos is based in Berlin. It is the most respected and oldest zoo in Germany. The Zoologischer Garten was completely destroyed during the Second World War but has restored and now houses more than 14,000 animals. Amongst others, pandas, lions, polar bears and monkeys can be found there.
Holocaust-Mahnmal
In the centre of Berlin is a huge landmark that commemorates the murdered Jews in the Second World War. It is the Memorial to the Murdered Jews of Europe or the Denkmal für die ermordeten Juden Europas. The holocaust memorial is 19,000 square metres long and covers 2,711 concrete slabs varying in height on a sloping field. The memorial resembles a cemetery and was designed to produce a confusing and uneasy atmosphere. The memorial should represent an ordered system that has lost touch with reasoning. Under the ground all the victims of the Jewish holocaust can be found.
Museumsinsel
In the Spree river is an island that is home to five museums. The Bode Museum, the Pergamon Museum, the Alte Nationalgalerie (Old National gallery), the Neues Museum (New Museum) and the Althes Museum (Old Museum). The museums display a huge amount of different arts: antiques, Byzantine art, 19th century art, Egyptian and Early history collections, impressionistic artworks and many more…
Photo by: Klearchos Kapoutsis