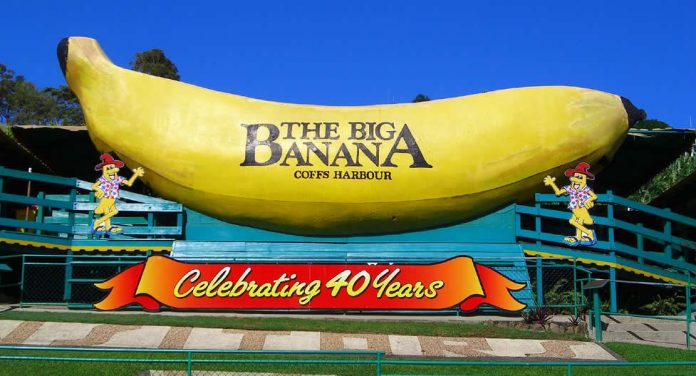 Australia is a big country, with big distances, big deserts and surrounded by big oceans. Many tourists visit Australia to see its "Big Things" like Uluru (or Ayers Rock, located right in the middle of a BIG nowhere near Coober Pedy), Great Ocean Road, Big Banana in famous Coffs Harbour, Big Koala in Victoria and many others. I counted about 140 Australia's Big Things and I'm sure there are more little (big) gems hidden somewhere.
So where are all those Australia's Big Things?
Big Things are mainly built by locals in small Australian towns to attract more tourists. But not only tourists like visiting them. Australians travel to see Big Things.
Sean and Kylie with awesome boys Sam and Josh travelled around Australia on a trike and visited all big things during their "Big Things Tour". They kindly shared their Big Things itinerary so now You can do an amazing trip and take a photo of an Australia's Big Thing.
Luke Chapman, a landscape photographer from Brisbane, shared in his article several Big Things that you can easily visit yourself on a road trip along the East coast between Queensland and Sydney. Here are those Big Things:
1. Big Rum Bottle (in Bundaberg)
Bundaberg is famous for its rum, and so for its Big Rum Bottle. The Big Rum Bottle, also known as The Big Bundy, was used as a pavilion of the Bundaberg Rum Company during Expo'88 in Brisbane. The Big Bundy is now located outside the visitor's centre at the Bundaberg Distillery. You can take a tour showing the rum production progress and taste rum at the end! (May be don't drink much as you need to see the next big thing!)
2. Big Ned Kelly (in Maryborough)
Drive from Bundaberg further down the coast and stop in Maryborough at Ned Kelly Motel. It is a bit of a detour from the Bruce Hwy but worth visiting. The Big Ned Kelly stands in front of the Ned Kelly Motel and the service station.
There is one more Big Ned Kelly statue – it locates in Glenrowan, Victoria.
3. Big Pineapple (in Woombye)
The Big Pineapple is a famous tourist attraction. 16 metres high it is claimed to be the world's largest pineapple. The Big Pineapple is quite old, it was opened in 1971, but it was recently re-painted so it shines again!
You can take a photo or even go inside The Big Pineapple and listen about the history of pineapples. Or get a train ride and visit an animal farm. A nice view will be waiting for you if you get to the top of The Big Pineapple.
The Big Pineapple has its own web site where you can find more on what to do around the Big Pineapple. (Have you heard about The Big Pineapple music festival?)
4. Big Apple (in Stanthorpe)
The Big Apple in Stanthorpe – another fruit in the Australia's Big Things basket, you may think? And you will be right! There are actually 6 Big Apples in Australia!
The Big Apple in Stanthorpe is located outside the Vincenzo's Deli and Cafe which is situated on the opposite side of the new England Highway to Suttons Apple Orchard & Cidery.
The Big Apple is easy noticeable as it is a giant Royal Gala apple. Take a photo and drop in to the Vincenzo's for their home made meat pies, cheese, icecream, wine and other awesome things.
5. Big Pyramid (in Ballandean)
The Big Pyramid, or The Ballandean Pyramid, is a stone pyramid near the small Queensland village called Ballandean. It is about 15 metres high and built from the local granite. There is a story behind it:
The Big Pyramid is located on property belonging to a local vineyard (Henty Estate) and is aproximately 25 metres from the nearest road. It was built by the now-past land owner at a cost of $1,000 Australian dollars. The pyramid was built after a local resident, Peter Watters (Watters Vine Management Service), asked what was to be done with the surplus amount of granite rocks that were excavated for land tillage. The pyramid took 8 months to build using an excavator and dump truck.

(source: wikipedia)
(May be the famous Egypt Pyramids were built because of the surplus amount of rocks? ;-) )
At the moment it is forbidden for public to climb the pyramid for any reason. Don't worry! For rock climbing you can visit natural rock formations in Girraween National Park, they known as the Pyramids!
6. Big Banana (in Coffs Harbour)
The Big Banana is one of the oldest and most famous Australia's big things. (An awesome family who travelled across Australian on a trike during their "Big Things Tour" is actually from Coffs Harbour!)
The Big Banana was built in 1964. (There are heaps of old Big fruits in Australia, as you see!). But The Big Banana is not the oldest big thing. The oldest big thing would be The Big Scotsman (known as 'Scotty') which was erected in 1963.
The Big Banana is a popular tourist place. Its complex includes a banana-themed souvenir shop, an indoor ski slope, and tours of the surrounding plantation.
7. Big Prawn (in Ballina)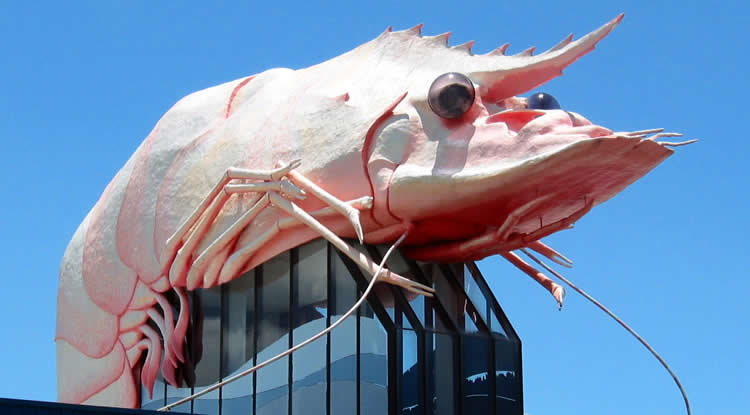 The Big Prawn was built in 1989. 20 years later, in 2009, Ballina Shire Council allowed the demolition of the Big Prawn. Fortunatelly the demolition has not happened because Bunnings Warehouse purchased the site and took care of the Big Prawn. Bunnings said it will keep the Prawn and will make it shine again. You can find the Big Prawn at the entrance of Bunnings.
8. Big Oyster (Taree)
The Big Oyster is located just north of the town of Taree.
Like the Big Merino and Big Banana, the 'Oyster' is an artifact based on local produce – the Manning River produces some 3,5 million oysters a year. The Big Oyster was an unsuccessful business venture, known to the locals as a 'Big Mistake'. It is now home to a motor dealership.

(source: wikipedia)
(If you like oysters, you can visit one more Big Oyster – it is located in Ceduna, South Australia.)
Wishing you an awesome trip visiting Australia's Big Things on the road from Queensland to Sydney! Send a photo of you with one of the Australia's Big Things and your travel story!
Going on a trip around Australia? Check this out:
The BIG Things Tour Around Australia – Itinerary
Photo by: Adam, Stuart Edwards