If you happen to be both a fearless globe trotter as well as an avid ghost hunter, then the country of Italy has plenty to offer on both accounts. Imagine indulging in your favorite Italian pastimes (namely eating gourmet cuisine and sampling fine wine) while revisiting those famous Roman haunts (pun intended!).
Si, you know the old adage about 'When in Rome', then take a Roman tour on the darker side and see a part of Italy that most tourists would never have a chance to.
Poveglia Island
This little known respite of plague, torture and restless spirits gained some recent notoriety when featured on the Travel Channel's "Ghost Adventures" television show. Initially used as a place to quarantine victims (and non-victims) of the bubonic plague, it was also the harrowing setting for mentally ill patients during the 1920's and a rumored demented doctor who purportedly performed operations of a most gristly nature on his hapless patients, so gruesome in fact, the doctor himself was rumored to have attempted to take his own life. And in true ghost tale fashion, the story concludes that after the doctor lay on the ground from his death leap off the bell tower, a ghostly mist rose out of the earth and swallowed him, forever.
Though technically not open to the general public, you can ask for permission to tour the island, however, plan on a good wait before you hear back and take into consideration even if you are granted permission, you may have a difficult time getting to the island. Since most of the local residents consider the island so taboo that anyone who even wanders near it could be cursed.
However, if you are not daunted even after all these dismal warnings and can actually find someone brave enough to get you over there, be prepared. To say it is rustic is an understatement, if something were to happen to you, it could be difficult to get medical attention quickly, as a matter of fact, you could end up as unlucky as some of the permanent islanders, those who were killed off during the plague or were victims of the doctor's depraved acts. But for those who end up investigating the island, your reward will be well worth it, you can honestly say that you walked the grounds from one of the world's most haunted location!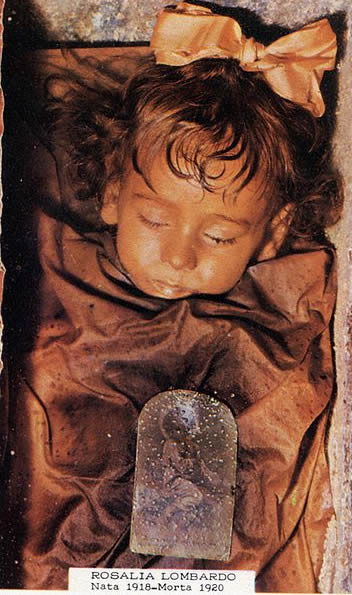 The Catacombs of Capuchin
If creepy is on your short list for Italian touristy spots, then this world-renowned burial spot should fit the bill.
Located on the island of Sicily, some of the dead are so well-preserved that they are even dressed and posed in rather playful positions.
Here you can view children, men, women, virgins and yes, monks all in various stages of decomposition.
Only for the truly courageous here! Caro Deo in Cielo!
The Bardi Castle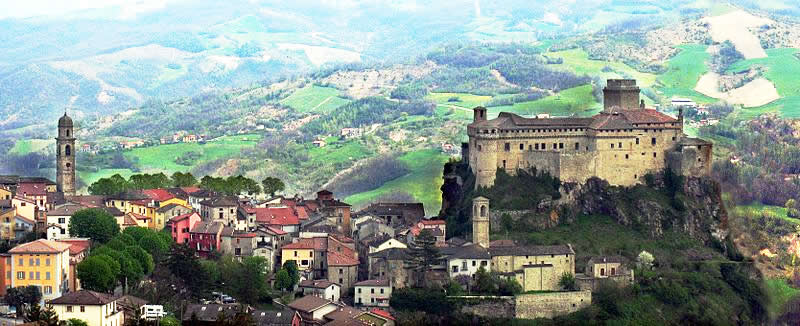 Like the castle of fairy tales, this ancient structure abuts out of the massive red Jasper promontory that lies overlooking the Emilia-Romagna valley nestled in nearby Parma. Like many tales of yore, not only does it fit the archetypical vestibule of spectral spirits, but it also is the fateful setting of unfulfilled lovers, legend has it a lowly soldier was smitten with a lovely nobleman's daughter, of course their affair was doomed from the get go, but that didn't prevent them from falling deeply in love, so much so that when the young man left for battle, his stricken lover took her own life after mistakenly thinking he had been killed, of course in a scene decidedly familiar to "Romeo and Juliet", when the young man learned of her fateful demise, he promptly threw himself off from the top of the castle's tower to join her in eternity. L'amore giovane.
At the end of the day, there is no reason that you can't get your fill of historic Italian sites, bucolic countryside's, frenetic nightlife and fabulous meals with a little ghost hunting a la carte! With a country rich in antiquity, you actually might be hard pressed not to run into a ghost or two. Just another reason to brush up on your conversational Italian, after all, you might be able to practice a few phrases with a very, very old citizen.
Photo by: Wikipedia, Chris 73, Google Maps, Maria lo sposo, Filippo Aneli