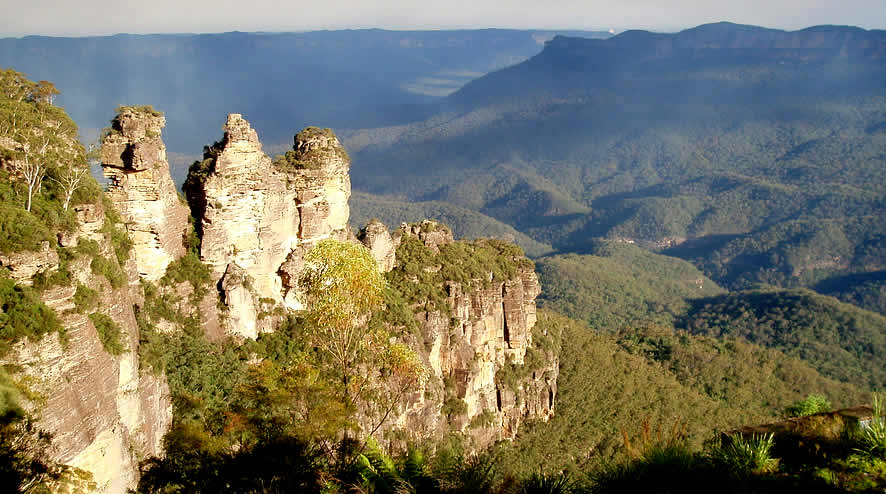 The Blue Mountains have long been the source of great mysticism for both the people of Australia and visitors from around the world. Despite a European presence existing in the country long before, it would take centuries for the European settlers to learn of the passages through the mountain range now commonly toured by visitors, as it was long believed simply to be impassible. The official crossing through the Blue Mountains by the European settlers is said to have cemented the colonization of Australia and is a major event in the rich history of New South Wales.
Passing the Impassible
Thought impossible, hiding the unknown beyond its impermeable rocks and cliffs – the Blue Mountains would prevent settlers from moving westward for 25 years before a path through was discovered, according to the New South Wales State Gallery. Despite the fact that Aborigine natives were able to get back and forth through the mountains, settlers were unable to figure out a way, many believed it was impossible. Originally, a prison was set up along the mountains, believed to be the perfect location for convicts as there was nowhere for them to escape. There are those who believe that one of these convicts who attempted to escape may have actually been the true first European to pass the Blue Mountains, but these rumours are unsubstantiated.
Then came three explorers who would reshape the colony of New South Wales, and the settlement of Australia as the world knew it: Gregory Blaxland, William Lawson, and William Wentworth. The explorers are credited with being the first Europeans to permeate the Blue Mountains, according to Hyper Hub, and their path was so accurate that the current Great Western Highway lies almost exactly on top of the route they took 200 years ago. It took the three explorers 21 days to make their way through the range, but once they did, development moved quickly from there. The New South Wales Gallery notes that in just five years, construction was complete on a road through the mountains, although settlement in the mountains itself and even the plains that lie beyond would be slow moving over the next 30 or so years.
Celebrating 200 Years of Development
If those three explorers had not broken through the impassible mountains all those years ago, there is no telling what Australia would be today. In celebration of just how important this passing was, there will be Blue Mountain celebrations and tours throughout the year to commemorate the 21-day journey to the expansion and shaping of the Australia we know and love today.
Photo by: Amanda Slater