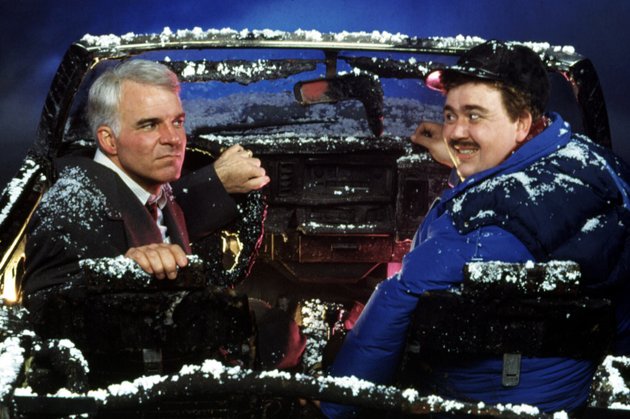 Over the years, the movie industry has released an abundance of road trip movies. These movies often speak to something within us. Who hasn't dreamed of just disappearing across the country in a hot convertible, Thelma and Louise style (though probably minus the tragic ending)? Here, then, are some of the best road trip movies ever made.
The Muppet Movie (1979)
The Muppet Movie from 1979 is one of the most beloved road trip movies to ever be released. It's filled with the always-funny humour of Jim Henson as well as a selection of songs that has worked its way into the universal unconsciousness. There aren't many people who don't know at least the chorus to Rainbow Connection. While the movie may seem dated, and having been released over 30 years ago, much of the humour still holds up today and is a great reflection of an earlier era when comedy wasn't as sarcastic and ironic as it can be today. Who knew that the calamities of a simple puppet frog in his quest to become a star while avoiding the machinations of an unscrupulous frog-leg company could be so amusing? Generations of people, young and old, continue to love this movie to this day.
Smokey and the Bandit (1977)
Like many road trip movies, Smokey and the Bandit starts with a simple premise: Bandit, a truck driver, is hired to bring a shipment of Coors beer from Texas to Georgia. At the time, Coors could only be sold west of the Mississippi River in America. Of course, transporting liquor across state lines involves legal risk, and hilarity ensues when Smokey, which is trucker slang for police officer, gets involved.
The trucker Bandit is played by Burt Reynolds, and Smokey is played by the late, great Jackie Gleason. The movie spawned two sequels and a series of made-for-TV movies based off of the characters portrayed in this 1977 classic, but none of them had the charm and absurdity of situations that the original movie embodied.
EuroTrip (2004)
If the raunchy teen comedies of the U.S. and early 2000s had a love child with the road trip movies of the 70s, the result would likely look something like EuroTrip. This movie is all about a group of teenagers who get into absurd situations while helping the main protagonist, Scott, meet the possible girl of his dreams named Mieke. Originally, Mieke was Scott's German pen pal, whom Scott thought was male only to discover that Mieke was a beautiful German. Scott and his pal, after meeting up with two of their friends from high school who are backpacking across Europe, do their best to get to Mieke and run into a series of hilarious mishaps along the way.
Planes, Trains and Automobiles (1987)
This John Hughes movie represents, for many, the crème de la crème of road trip movies. Although it was generally ignored when it was released, it has become something of a cult classic in the years since. In this odd-couple comedy, characters played by Steve Martin and John Candy end up undergoing a seemingly never-ending sequence of comical tribulations of over a period of 72 hours while Steve Martin's character is attempting to get to his family for Thanksgiving. This flick is filled with quotable lines and scenes, and one of the most popular scenes involves a rather uncomfortable event that ends with the phrase "those aren't pillows!"
Although many consider the era of road trip movies to have passed its prime, these types of movies still are released today. Furthermore, they still speak to the wanderlust and desire for adventure, or misadventure as the case may be, that resides within all of our hearts. Who wouldn't like to spend three days with a complete stranger getting mixed up in a series of comical circumstances?
Photo by: http://movies.yahoo.com