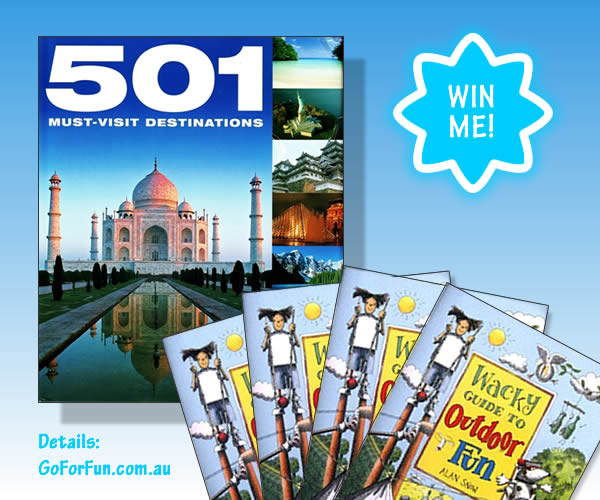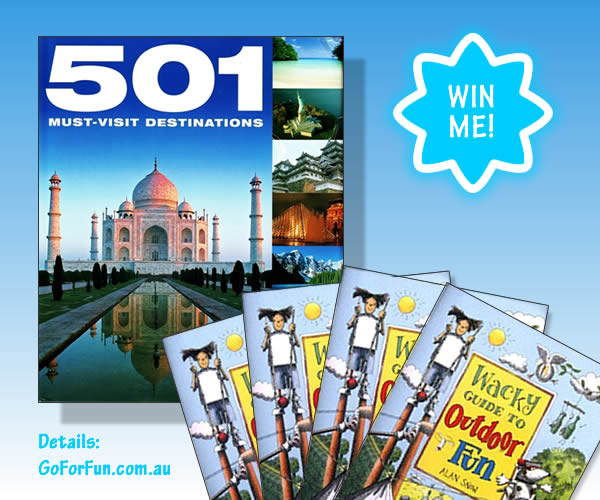 Give Away
As an appreciation to everyone following Go For Fun on Facebook, Twitter and to all subscribers to the Go For Fun newsletter, Go For Fun gives away one "501 Must Visit Destinations" (RRP $21.83) – a fantastic travel book (which is just full of travel inspiration!) and 10 (ten) copies of "A Wacky Guide to Outdoor Fun" (RRP $15.34 each) – the Alan Snow's fun activities book!
Thank you for your passion to traveling and seeing the beauty of our World.
Winner Gets
11 winners get either "501 Must Visit Destinations" book or
one of ten "A Wacky Guide to Outdoor Fun" books.
501 Must Visit Destinations book
It's 544 pages, a pretty thick and a heavy one!
What do people say about it?
(Person's review on Amazon)

Nice reference for the traveler

501 Must-Visit Destinations gives you an insight into places that are worldly famous, but also places you might not have heard of. As the other reviewer mentioned, this book is organized by various continents and regions within these continents, making it a very user-friendly reference for the traveler who wants information, is planning a trip, or is just curious about the region.

For instance, if you wanted information on places to travel or see in Australia and Oceania, you would turn to this section and find information on such places as The Great Barrier Reef, The Whitsunday Islands, Victoria's Great Ocean Road, Bryon Bay, Syndey Harbour, etc. Each page is organized beautifully, with a picture of the area, and brief facts, such as "What is it", "What is it Known For", "What is there do to there", "What is there to see", and "How do I get there."

There is also a full page description about the area, more in the line of historical information, the culture of the people living here, and what to expect when you visit.

Very cool book for the traveler, or the curious!
Well said! I fully agree with him as I have my copy of this book and I'm just loving it!
Get a sneak peek yourself – look inside the book on Amazon
A Wacky Guide to Outdoor Fun
"A Wacky Guide to Outdoor Fun" is written by awesome Alan Snow. (I have his hilarious book about cats! But it's a completely another cat story).
The book is full of interesting and sometimes silly outdoor activities. It's a fun book to help children play outdoors – heaps of funny activities you can occupy them with! The book includes step-by-step illustrations and simple instructions.
(From the book's back cover)

Disguise yourself as a pile of rubbish, send semaphore signals, build your own assault course, create your own backyard band … you'll find these and lots more ingenious outdoor activities in this DIY all weather entertainment guide. So choose today's wacky activity, follow the step-by-step illustrations and instructions, and go and have some outdoor fun!
I could not find the book preview for you. May be because it becomes a rare book. I think I bought the last batch of this book when I saw it in a book shop :) The only place I found it is here
How to Win
To be one of 11 winners:
You need to be among fellows who "Like" Go For Fun on Facebook, or Follow on Twitter, or subscribed to the Go For Fun newsletter.

(Like, Follow, or Subscribe only if you really feel so. Please don't do it just for a chance to win an awesome travel book! Otherwise our love to travel, photography and inspiration can be too overwhelming for you!)

Just tell us where you follow Go For Fun.
Post in comments here or comment on the Giveaway post on Facebook
The winners will be selected at random by using random.org on Monday, 25th of February.
I will need a way to contact you, so make sure you specify your email address if you comment on this post. Please make sure that you allow messages on Facebook so I can contact you there (if you don't, then comment here with your email).
Share with friends as it's plenty to WIN!! Make friends feel good.
Good luck!
Photo by: Adam, Stuart Edwards