With its warm climate, huge stretches of untouched wilderness, and casual, welcoming culture, Australia has long been a favourite vacation destination for people from around the globe. Whether you prefer to bask in pristine natural beauty, bask in sunshine on a warm beach, or take in the city nightlife, Australia's got something just for you. Here are just a few of the items on Australia's vast vacationer's menu.
Beaches
Australia is justly famous for its beaches, which range from immensely popular spots like Sydney's Bondi Beach to any number of near-deserted stretches of peaceful waves and warm sands. Some include exotic features like Whitehaven Beach's extraordinary white "silica sand", the many-hued sands and clear freshwater pools of Fraser Island's 75 Mile Beach, or the spectacularly rocky shore of Pirate's Bay in Tasmania. Others, like Cable Beach in Western Australia, are famous for their breathtaking sunsets, or for the exotic wildlife that can be seen both on the beaches themselves and inland.
There's plenty to do on these beaches beyond just taking in the scenery, of course. Surfing is highly popular across Australia, with lessons and board rentals available all over, as is scuba-diving instruction and equipment. Scuba dives are especially popular around one of Australia's most famous geographical and biological features: the Great Barrier Reef, which is the world's largest coral reef and one of its most important and varied marine habitats. Unlike the Great Wall of China, it actually can be seen from space, and is filled with an almost bewildering variety of fascinating fauna.
Nightlife, Events, and Culture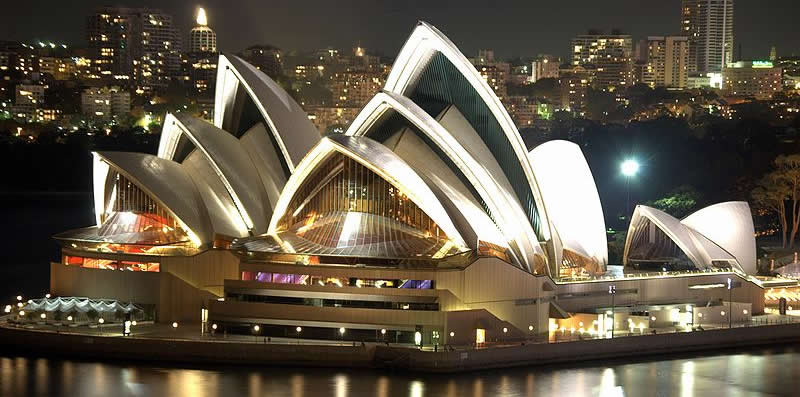 Australia's major cities offer plenty in the way of nightlife, with restaurants, clubs, bars, and concert halls catering to every taste. For beer connoisseurs, the huge variety of microbreweries and craft beers available is certainly worth checking out, and there are famous vineyards as well for wine-tasting aficionados. One of these wine-producing areas, the Hunter Valley, is also famous for its huge outdoor shows that bring in international stars like Elton John and Bruce Springsteen. There are plenty of other venues for world-class concerts, including the renowned Sydney Opera House, all over Australia. You can check for live tickets from Ticketbis.com.au for upcoming events.
Beyond the big-name concerts, of course, there are a huge number of music festivals that go on every year all over the continent, featuring every genre of music you can imagine and taking advantage of Australia's endless supply of open-air venues. Plenty of other annual events like Australia Day in Sydney (26th of January, celebrating the day Captain Arthur Phillips planted the British Flag), which takes place in the middle of the summer and involves a whole slew festivities, are worth looking into. Check out this list of cultural attractions; you're sure to find something that catches your interest.
The Outback
As an entire continent populated with only about twenty-three million people, Australia has no shortage of wilderness. Commonly referred to as "The Outback", the country's huge, dry interior offers an endless supply of adventure, from horseback riding to rock-climbing to recreational vehicles and everything in between. Isolated for millions of years, this island continent hosts animal and plant life unlike anything else on Earth, with famous creatures such as kangaroos, koala bears, and the duck-billed platypus existing nowhere else. Plenty of guided wilderness tours are available, as well as trails and maps for those who prefer to go with a small group. Trekking in the Outback alone, with its isolated nature, is not recommended.
A few of the more famous sites of unique natural beauty in the Outback include Uluru, a huge sandstone rock formation deep in the desert with strong spiritual and mythological significance for the local Anangu Aboriginal people, as well as a UNESCO World Heritage Site. You may also want to visit Wave Rock, an astonishing formation that looks as though a great ocean wave became petrified just as it broke on the shore. There are also plenty of less famous but beautiful locations where you can well and truly be away from it all, as the Outback is a very, very large place.
Stargazing
It would be remiss to leave you without a mention of Australia's night sky. The Southern Hemisphere has entirely different constellations and stars than does the Northern, and there are planetariums in many cities such as Sydney and Melbourne. If you do take a trip to the Outback, you'll get an unparalleled chance to see the Southern Hemisphere's stellar sights far, far away from any sort of light pollution, which will give you an absolutely breathtaking view. Even if you can only get a little way from the city, it's worth a look.
Photo by: Anthony Winning