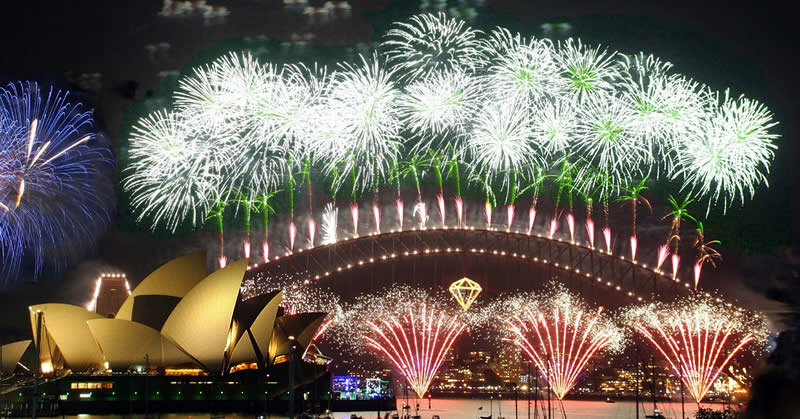 Sydney is Australia's most sophisticated and most glamorous city, and can be an absolutely stunning place to celebrate New Year's Eve. Australia's largest city is also its oldest, and the city is full of world famous sights. On New Year's Eve, fireworks light up the sky above the iconic Sydney Opera House and the Sydney Harbour Bridge. Elsewhere in the city, lively events provide party-goers with many exciting options, while cosy restaurants cater to those looking for a romantic setting in which to usher in the New Year.
Sydney's numerous amazing options make it an exceedingly popular destination at New Years, and the fireworks exploding over Sydney Harbour Foreshore are seen by 1.6 million people each year, many of whom travel from other parts of Australia just for the celebrations. Because of Sydney's immense popularity as a New Years Eve destination, it can get incredibly crowded. Careful planning is recommended in order to avoid inconvenience and have the best possible New Years. Here are our tips on how to have a drama free New Years in Sydney.
Viewing the fireworks
The fireworks over Sydney Harbour foreshore are without a doubt on everybody's New Year's Eve to-do list, and the awe-inspiring location coupled with state of the art pyrotechnics make it easy to see why. As people will be coming in droves to the city to see the fireworks, it is absolutely necessary to arrive early to get your bearings and to secure a good spot.
The celebrations start around 5pm, but it is best to arrive before that as the crowds start to swell later in the evening. Families with children who have to be in bed early need not miss out, as there are fireworks displays at 9pm that the kids can enjoy before heading home. Some recommended viewing areas are the Circular Quay Promenade, Darling Harbour, Sydney Opera House and the Rocks, but there are many others, so do your research.
A restaurant with a view
If watching the fireworks from a crowded spot doesn't sound appealing to you, you might prefer instead to dine at a well-located restaurant with a view of Sydney Harbour. The harbour is littered with high quality restaurants offering stunning views. An example would be the Scarlett Restaurant at Harbour Rocks Hotel offering a special New Year's Eve fireworks dinner timed to coincide with the countdown celebrations!
Private Apartment
Having your own party at a friend's apartment with a view of the harbour is a great way to enjoy yourself in the company of friends and family without having to handle the stress of facing large crowds. Not only will you get to enjoy the fireworks from a comfortable private setting, you will also have full control over the food, drinks and music that will accompany you into the New Year.
Transportation
Transportation is an important factor that must not be overlooked, as the streets of Sydney will be extremely congested and delays should be not only anticipated but expected. Public transport will be very crowded and taxis in short supply, especially after the 9pm and midnight fireworks. It is therefore crucial to know how you intend to travel to and from the city, and to make advance arrangements wherever possible. If you intend to take the bus, ensure you know exactly where your bus will be leaving and the route it will be taking and take into account rerouting due to road closures. If you're travelling by taxi, make an advance booking. A bit of advance planning can save you a huge amount of stress and frustration.
Accommodation
If you'd like to avoid the inconvenience of taking public transport or navigating overcrowded roads, booking a night in a suite at a local hotel can save you a lot of hassle and also allow you to retire in comfort at the end of an exciting night. If you're celebrating with friends, sharing a room and splitting accommodation costs will keep expenses low. If you're celebrating with a loved one or significant other, returning to your own room after the fireworks will enable you to spend some quality time together. A hotel with a view of the harbour, such as the Sebel Pier One, will ensure you enjoy Sydney's stunning waterfront even after the fireworks are over.
The fireworks over Sydney Harbour offer one of the most stunning New Year's Eve celebrations in the world and must be experienced at least once in a lifetime. The Sydney New Year's Eve celebrations are deservedly popular, so planning in advance is essential to ensure you avoid unnecessary frustration. Be aware that the city will be crowded, make all reservations well in advance, make detailed plans for getting from place to place and ensure you give yourself ample time in light of possible delays. If you do your homework, you will better be able to soak in the incredible atmosphere and breathtaking sights of New Year's Eve in Sydney.
Photo by: Rob Chandler