May 12
24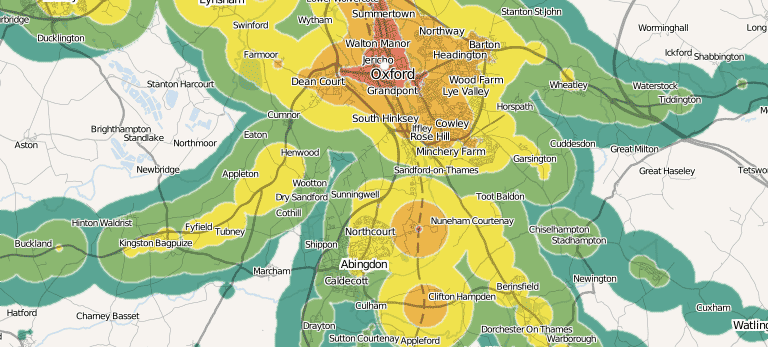 Mapnificent – places you can reach with public transport in a given time
Mapnificent is a fun interactive application that helps to understand how quickly you can get to places on public transport. It provides dynamic public transport travel time maps for many US cities and some cities around the world.
Mapnificent was originally inspired by Mapumental, a travel tool which is famous in UK but is still in private beta.
What is Mapnificent for?
This is what Stefan Wehrmeyer, the creator of Mapnificent says:
Mapnificent is not a trip planning service and you should in fact use the trip planning services of the public transport providers that are linked to in the bottom left corner of the Mapnificent site.

Mapnificent is rather a tool to explore many fuzzy trips at once to see more possibilities where to live, to work or to meet up. With the integrated Google Local Search you may discover that even though some place is a few miles away, it is still reachable with public transport in a couple of minutes. Mapnificent on its own is fun to play with and looks awesome, but to uncover the real use cases.
Mapnificent Features – Video
Mapumental – Travel Times displayed on gorgeous maps
Mapumental is another public transport travel map tool, but it's mainly for UK.
Mapumental displays travel times by public transport on a beautiful, easy-to-understand map. You can use the maps in many ways:
For renting a property: See how quickly you can get to work or nearby places
During a job hunting: Check your probable commuting time to the workplace
While travelling: See what places you can get to by public transport
This is what guys from Mapumental write about their tool:
Commute time is a major consideration when house-buying or job-hunting. Mapumental uses actual journey data from the national public transport data repository to show journey times from any postcode to every point on the map.

Prices are important for house-hunters, too, of course. So we've added a layer of house price data from the Land Registry. And we have also included an indication of how scenic the area is – as rated by tens of thousands of web users.
Mapumental – Travel Map Video
Here is a short video explaining how Mapumental works:
What do you personally use as a travel planning tool for your journey? Do you use any at all?